Modern piñata re-imagined by artist Roberto Benavidez
It's believed that the original Piñata was a cow shape that was filled with seeds & beaten to ensure a good harvest.  They then moved to Spain and became associated with Lent and Easter, still a clay pot, but decorated with colorful paper & ribbons-rewards for faithful believers.
When the Spanish brought it to Mexico in the 16th century they brought the tradition but decorated the pot with colorful feathers and beat it to celebrate their gods birthday in December.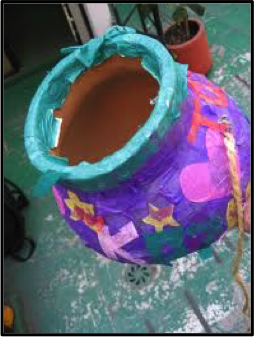 This began tradition of the Star shaped piñata celebrated in the days leading up to Christmas, with the star representing the Star of Bethlehem.
The Donkey became a tradition as a representation of the "burro" for Mary's journey to Jerusalem.
Today's Piñata's have lost their religious meaning, but are still used at festivals or celebrations and the common theme of revealing treasures inside remains.  Today's Piñata's take all shapes and many are made of Papier-mâché.
All Piñata's are typically hung and have a relationship with the sky, either with the rain, or a divine being.
Objective: to create a piñata who's shape holds meaning to you and this past year or looking towards the future.
Modern Examples: